Can My Eye Doctor Help If I Have Droopy Eyelids?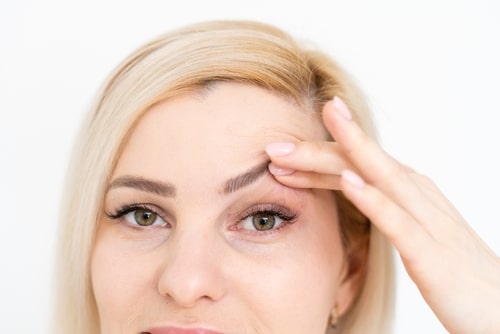 Do your eyelids droop or sag? Since your eyes are one of your main facial features, it's hard to feel confident in your appearance when your eyes are surrounded by drooping skin.
Skin can even hang low enough to obscure your peripheral vision. This condition is more common than you might think.
As you age, the muscles in your eyelids become weakened, causing pockets of skin and fat to accumulate around your eyes. It can also be a result of your family history or sun exposure.
Droopy eyelids don't have to become a fixed part of your appearance. Keep reading to find out how your eye doctor can help droopy eyelids!
What Is Blepharoplasty?
Also known as eyelid surgery, blepharoplasty is a surgical procedure that removes excess skin, fat, and weakened muscle from the eyelids. It can be performed on the upper eyelids, the lower eyelids, or both.
During an upper eyelid blepharoplasty, your eyelid surgeon will make a small incision along the fold of your eyelid, so it will hardly be visible after healing. During a lower eyelid blepharoplasty, they will make an incision right underneath your lash line or inside the lower lid.
Then, they will remove the excess skin, fat, and muscle. Blepharoplasty is an outpatient procedure.
It takes one to two hours to complete, depending on whether you are getting it on your upper or lower eyelids or both. You can return home the same day and plan to return to most normal activities within ten days.
There will be some swelling and bruising, but it will be significantly reduced by that point. If drooping skin is blocking your vision, blepharoplasty may be covered by your insurance.
Otherwise, it is usually considered a cosmetic procedure.
What Can Blepharoplasty Do for You?
When you have drooping skin around your eyes, it can make you look tired and sick all the time. It can even make you look older than you actually are.
Blepharoplasty effectively eliminates excess skin, fat, and muscle so you can look more awake and younger. If drooping skin affects your vision, blepharoplasty can expand your field of vision.
It will no longer feel like something impedes your vision wherever you look.
Who Is a Good Candidate for Blepharoplasty?
Blepharoplasty is an excellent option for those looking to get rid of loose, sagging skin around their eyes and restore a more youthful appearance. Blepharoplasty is not only good for eliminating skin that droops over the eye.
It can also help with:
Puffy eyelids
Excess skin and fine wrinkles under your eyes
Bags under your eyes
If you are interested in blepharoplasty, you will have to visit one of our eye doctors for a consultation. At your consultation, they will ask you about your medical history and what you hope to achieve with the procedure.
They will also closely examine your eyes to ensure they are suitable for the surgery. Recovery from the blepharoplasty procedure is often quick and easy so you can return to your everyday activities with new confidence in no time.
Are you interested in learning if you may be a candidate for blepharoplasty? Schedule an appointment at Ginsberg Eye in Naples, FL, today to find out if blepharoplasty is right for you!